BRENDA SARAI ZUNIGA
Brenda Sarai Zuniga is a motivational speaker, mindfulness coach, comedian, actress, singer, pianist, author, and humanitarian determined to create positive change in this world.
Brenda is living proof of the American dream. At one year old, she was smuggled into the US and raised by her teenage parents. Growing up she attended 11 schools, lived in 15 different homes, and wasn't diagnosed with ADHD until the age of 25. She credits her adversity-filled upbringing for having developed incredible resilience, empathy, and humor.
In 2018, she became a U.S citizen, a triumph 25 years in the making. That same year she founded Sweet Thoughts Travel Inc., a mindfulness coaching company. Using practical tools, backed by neuroscience, she helps clients optimize their ability at handling life's inevitable difficulties.
Brenda has created Mindfulness workshops and keynotes for USC, Miss Universe Organization, Green Dot Schools, NAMI Organization (National Alliance on Mental Illness), Pepperdine University, Azusa Pacific University, Salon Service Group, The City of Rancho Cucamonga, ArtEs Theatre Entertainment School, Vaughn Charter Next Century Learning Center, The Minds Foundation, Miss Utah USA, Miss Nevada USA, and Miss California USA. Brenda's been featured on The LA Times, The George Lopez Foundation, ALO & ALO Moves, KTLA 5 Morning News, Modern Nirvana with Kat Graham, We Rise LA, The Rose Bowl Institute, and more.
In 2020, she created and hosts her video podcast titled "Getting Mental with Brenda Sarai Zuniga", bringing mental health education in a fun and relatable way. A true creative, she has found a way to blend her comedy, music, and mental health all in one. "Getting Mental with Brenda Sarai Zuniga" can be found on Spotify, Apple Podcasts, and YouTube.
In 2021, she wrote, directed, produced, and starred in her debut comedy musical one-woman-show titled Getting Mental: On The Livestream with Brenda Sarai Zuniga. A comedy musical with a purpose, Brenda created a show for everyone to learn positive coping skills as she speaks, sings and jokes about her mental health journey. She discusses living with ADHD, her past struggles with anxiety, depression and the life-shaking experience that triggered her to blend comedy and mental health education.
An inspirational woman of many talents, Brenda Sarai Zuniga is a shining example of what can be achieved by taking care of one's mental health, having grit, and being kind.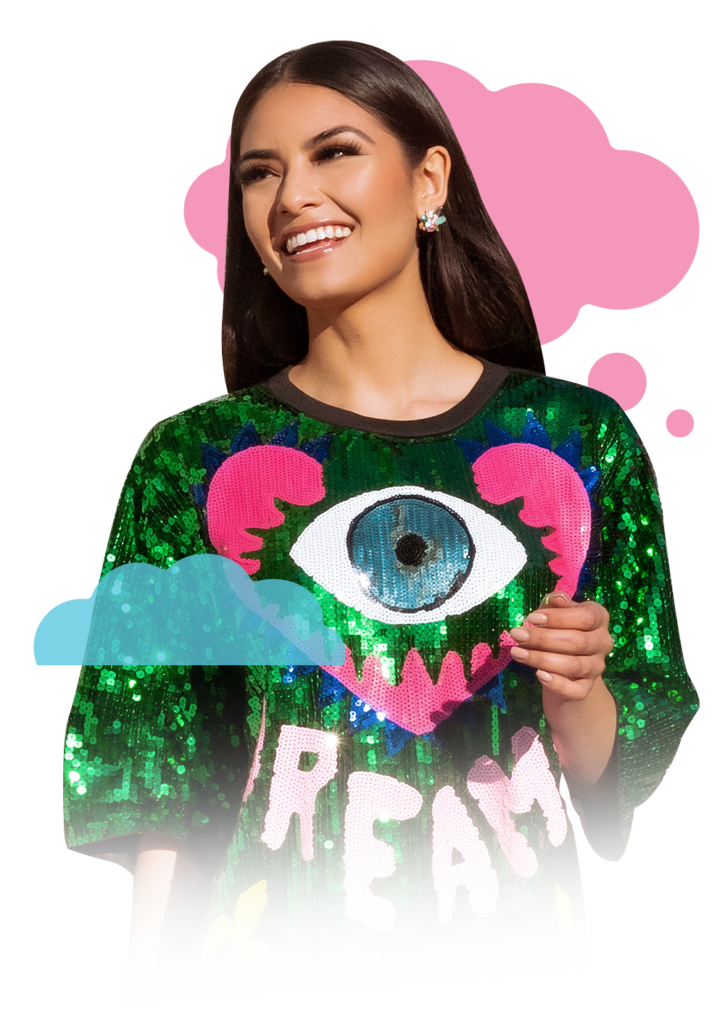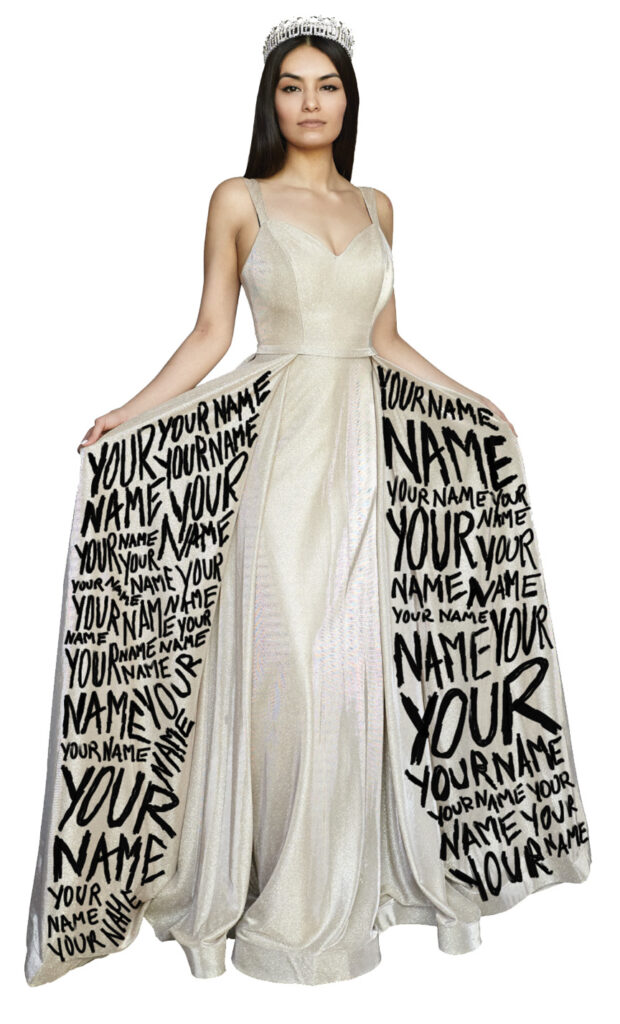 Semi-Finalist at
Miss California USA
2020 & 2019
. 
Brenda is the co-creator of the innovative charity campaign "Brenda's Dress", which she debut onstage at Miss California USA 2020, the preliminary pageant to Miss USA. This never-before-seen charity campaign raised funds for children in need by having donors names printed on her pageant dress. "Brenda's Dress" was featured in the LA TIMES, Insomniac Radio, and broadcasted on the So-Cal News. "Brenda's Dress" raised $10,000 and became the first-ever charity art piece debut at a pageant part of the Miss Universe Organization. 
Read the LA TImes article
NOW THAT WE GOT THE THIRD PERSON SECTIONS OUT OF THE WAY... HERE'S THE OTHER SIDE OF ME!
MY FAVORITE THINGS:
CONCERTS (MY HAPPY PLACE)
DONUTS (ANY KIND. GIVE THEM ALL TO ME)
IN-N-OUT JUNKIE (ADD SKITTLES TO THIS)
WHITE ROSES (2ND FAVE: SUNFLOWERS)
AMUSEMENT PARKS (DISNEY FREAK OVER HERE!)
SOLO TRIPS (FAVE DESTINATION: COLORADO MOUNTAINS)
BLACK TEA WITH ALMOND MILK AND STEVIA (TEA ADDICT)
DANCE PARTIES IN MY CAR (ADD SINGING TO THIS)
LAUGHING AT THE TOP OF MY LUNGS ( P.S I GET LOUD)
MAKING FUN OF MYSELF (I'M A GOOFBALL)
PIZZA WITH PEPPERONI + PINEAPPLE (DEEP DISH > NYC STYLE)
COOKING WHILE LISTENING TO BILLY JOEL (LOW-KEY OBSESSED)
PLAYING MY PIANO (HIGH-KEY OBSESSED)
TRAVELING. ANYWHERE. (TRAVEL ADDICT TO THE MAX)
F.R.I.E.N.D.S. (BEST TV SHOW EVAAA)
MUSIC IS MY LIFE (MICHAEL JACKSON, BILLY JOEL, DEADMAU5, REZZ, ERIC PRYDZ, THE CHEMICAL BROTHERS, MANÅ, FALL OUT BOY, SYSTEM OF A DOWN…)
TOP 5 MOVIES (GREASE, AMERICAN PSYCHO, SERIAL MOM, WHAT ABOUT BOB, STAR WARS EPISODE IV- A NEW HOPE)